Tuberculosis is a disease that affects the lungs, causing cough, fever and weight loss. All of these symptoms can occur several years after developing the illness. It is a dangerous disease especially for young children and people with weakened immune systems. World Tuberculosis Day offers us the opportunity to reflect on this disease in order to know it and understand the importance of prevention actions in vulnerable areas such as Nairobi slums or Kajiado County.
Tuberculosis and Covid-19: a parallelism
Often the news reported by the media overshadow the numerous risks to which people are exposed, especially the most fragile. Just think of the Covid-XNUMX, which now seems to no longer be front page material. However, as concern about the virus subsides and security measures are (probably hastily) rethought, we are seeing the development of new variants - yet another demonstration that the pandemic is not over yet. The history of Covid is not so far from that of tuberculosis and World Tuberculosis Day is an opportunity to reflect on an epidemic that in fact never stopped.
When the bacterium that causes tuberculosis was discovered, it paved the way for new ideas for testing and improving prevention. Again the surest answer was found in the vaccine. As in the case of Covid-XNUMX, the tuberculosis vaccine was not immediately accepted by the entire population. In any case, the vaccine does not fully immunize and World Tuberculosis Day can remind us of the dangers of the disease and the importance of continuing to invest in treatment and prevention.
World Friends and tuberculosis - Paul's story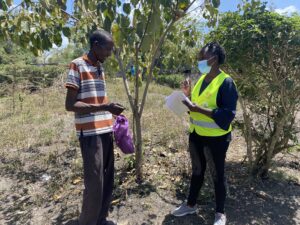 This year's theme is precisely "Invest to End TB", to save lives. This message is expressed in the work we carry out on the territory in Kenya. Through projects such as HIPS-TB and today with ATI-TB we try to make access to health services equitable for all vulnerable people suffering from this disease. This is how we got in touch with Paul.
Paul doesn't have a steady job. He tries to make a living as he can, especially with construction jobs. He had heard of World Friends mobile clinics in Ewalata, in Kajiado. He had never needed them, but they had told him that he could get medicines and medical examinations for free. As Paul began to develop symptoms, he quickly realized that he could not afford treatment in a hospital. When he heard of a new mobile clinic by World Friends, he realized that this was the right opportunity to get help.
As soon as he arrived at the mobile clinic, Paul was examined by our team of doctors. He was showing symptoms attributable to tuberculosis, and the team collected a sputum sample for testing. Thanks to the GeneXpert technology it was quickly discovered that, sadly, he was positive for tuberculosis. Paul, however, did not lose heart. He knew that the only way to deal with the situation was to seek help and get treatment.
We directed Paul to the nearest dispensary where he would find the medicines he needed. We also decided to provide him food packs to make sure he was getting the nutrients he needed during therapy. Nutrition is essential during a therapy journey and we believe it is important not to force people like Paul to choose between food and treatment.
We have known Paul for a month and are already seeing great progress! Now he has enough strength to go to his medicine dispensary alone. He has also stopped drinking and smoking. Paul is doing everything he can to heal, despite the economic situation in which he lives. When we visit him he is always smiling and happy that we continue to check him up to make sure of his health.
Paul's case has shown us that people are not only looking for treatment, but are also concerned about having preventive screenings, especially if they are well informed. Now Paul advises all his friends to get checked, sensitizing them and making them aware of the risks of tuberculosis. Investing in the fight against tuberculosis does not just mean doing research and buying new technologies. Above all it means investing in people for which access to treatment is often impossible to say the least.