According to the World Health Organization, Breast cancer is the most common form of cancer among women in both the countries of the global North and South, leading to death in the
60% of cases in developing countries. Breast cancer accounts for 7% of total deaths annually in Kenya alone. October is Breast Cancer Awareness Month and World Friends together with Ruaraka Uhai Neema Hospital have supported this initiative by promoting various health education and awareness raising activities. Most of the inhabitants of Ruaraka sub-county live below the poverty line, have no access to quality education and have no health insurance. All these factors make it essential for the population to have access to correct information, screening, affordable treatments and specific treatments for breast cancer with cost coverage for poor patients.
Numerous health education sessions took place at RU Neema, while at Wings of Compassion, a facility that provides shelter for teenage mothers of the slums, a home screening session took place. These activities served to raise awareness among patients, young mothers and the community as a whole. After the information sessions, many women were invited to take part in the free breast cancer screenings at RU Neema Hospital. The sessions allowed them to learn more about the signs and symptoms of breast cancer, the availability of a free clinical screening service and breast self-examination techniques, while demystifying myths and myths about the disease and showing various treatment options. offered to RU Neema Hospital.
On October 22, a medical training session was held at RU Neema Hospital. The session, edited by Dr. Gianfranco Morino, Head of World Friends Kenya,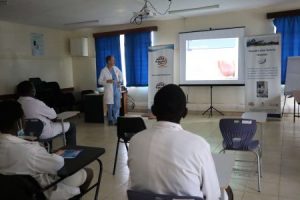 it was aimed at the hospital's new medical staff. Numerous topics were covered during the training, including patient history and evaluation, risk factors, prognosis, clinical and radiological evaluation, breast cancer stage recognition, and choice of treatment options. The main objective of the session was the general improvement of patient outcomes, awareness levels and the quality and efficiency of healthcare professionals.
Educating the local community will enable improved prognosis in breast cancer patients and increase the chances of survival through early disease detection, particularly now that screening and diagnosis numbers are declining due to the COVID-19 pandemic. . World Friends and RU Neema Hospital work tirelessly towards early diagnosis and prevention in order to effectively combat this dangerous, but often underestimated disease and to allow women in Nairobi slums to live longer and healthier lives.