Today is World Creativity and Innovation Day, two fundamental values ​​to foster development and progress. Creativity and innovation are necessary conditions to gaze into the future, so that they have been recognized as essential elements for achieving Sustainable Development Goals. Innovations lead humanity to continuous improvement and affect every field of science and society. From new ways to connect around the world, to new solutions to treat diseases and provide medical care, creativity and innovation are proof of our willingness to evolve, of how we are always looking for change.
Innovation has proven to be of immense importance to medicine. In order to increase accessibility to medical services, World Friends seeks to constantly adopt medical innovations, certain that they are an essential tool to combat inequalities. On World Creativity and Innovation Day we want to tell you about projects such as SonoMobile and ATI-TB, in which innovation has been able to overcome the difficulties linked to access to health services.
SonoMobile - innovation for maternal and child health
The SonoMobile program was created to mitigate the high rates of neonatal and maternal mortality in informal settlements and in rural areas of Kajiado. Although there are several health facilities in the area, most of them do not have obstetric ultrasound services available. These kinds of services are too expensive for women in informal settlements and virtually inaccessible for those in rural areas. This has denied the access of pregnant women to basic services meant to decrease high maternal-infant mortality rates due to complications during pregnancy and childbirth.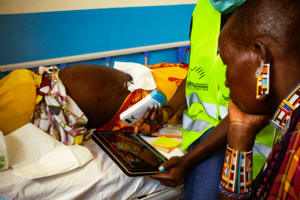 By providing obstetric and gynecological services, health complications that may occur during pregnancy can be identified and treated promptly to ensure a safe pregnancy for both mother and baby. In order to achieve this, World Friends has partnered with Health-E-Net, a medical technology innovation company that has been able to facilitate mobile ultrasound scans in the field using tablets and portable ultrasound systems that allow the procedure to be performed in the field, without the need for an internet connection. The data collected in the field is stored and sent to the sonographer to interpret the captured information and compose a detailed report of the results, which is then sent to the mothers via SMS. This project has not only resulted in one significant decrease in maternal mortality and neonatal by beneficiaries, but has also been shown to be replicable in other settings. Such innovation proves that the creation of affordable and quality healthcare is possible.
The SonoMobile project was carried out thanks to the contribution of the Italian Agency for Development Cooperation.
The Mobile Ultrasound in Kajado project was carried out as part of the Call Technologies for Sustainable Development, promoted by Fondazione Cariplo and Fondazione Compagnia di San Paolo under the program Innovazione per lo Sviluppo.
ATI-TB - Awareness, Tradition and Innovation in the fight against Tuberculosis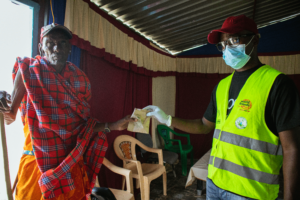 Another of our projects ATI-TB, focuses on awareness, detection and treatment of tuberculosis in Kajiado. Tuberculosis is an epidemic far from the headlines, often overlooked, despite the serious risks associated with the disease. Although there is a vaccine, the disease is still widespread today, especially in high-risk contexts such as rural areas of Kenya.
Through the use of GeneXpert, a portable tuberculosis testing machine, we were able to successfully reach people in rural areas and provide the necessary tests. This would not have been possible without the creation of such portable devices. This technology allows detection for the subsequent treatment of the disease and especially helps those who would not have access to such services in the first place.
The ATI-TB project is carried out thanks to the contribution of the Italian Agency for Development Cooperation.
Innovation is the key to the future
It is increasingly evident that innovation and creativity are key elements to overcome the obstacles posed by poverty and inequality. Projects such as SonoMobile and ATI-TB demonstrate how a conscious use of new technologies is truly capable of breaking down barriers that until a few years ago would have been insurmountable.
However, to completely overcome inequalities, it is essential that there is also equity in access to new technologies that are attentive to human development and the environment. On World Creativity and Innovation Day, we renew our commitment to apply these two values to a​​ll our initiatives, convinced that they are the basis for finding new, unprecedented solutions to problems that afflict the most vulnerable people in the peripheries of the world.