The first two matches of the series took place in Grugliasco and Rivoli "We transmit the information and not the virus" organized by World Friends e CCM Medical Collaboration Committee, In collaboration with the 'AslTo3 and with the contribution ofItalian Buddhist Union. The initiative was a precious opportunity for the promotion of health and information to the local community, with particular attention given to people over 60, in order to guarantee them a moment of expression and information after the difficult months of lockdown.
On this occasion we exchanged a few words with Giacomo Becatti, anthropologist and World Friends collaborator for the "Io R-esisto in strada" project.
- You are participating in the "Io R-esisto in strada" project by World Friends and CCM as an anthropologist. What is the goal of your participation in this project?
- I am an anthropologist and social worker and I collaborate on the project in the activities in the territories of Rivoli, Grugliasco and Collegno in Piedmont. Mine is a sensitivity that I would define as "empirical", certainly different from that which a psychologist or a nurse can have. This project managed to bring together many different skills, underlining the importance of working together.
The phenomenon of the Coronavirus and the policies it has activated has affected everyone, but each in a different way and I believe that an anthropological competence has been adequate and productive to understand how this social event has crossed individual experiences and create a bond with people, in particularly in a less emergency phase such as that of post-lockdown. New sensations and needs emerge for each individual: almost all of us have gone through a particular moment, which has forced us to find ourselves more alone with ourselves. The opportunity must now be given to tell and "socialize" this narrative, also and above all to understand, which is not done only with statistics, what people's needs are now, what needs to be done and how they can improve services dedicated to them.
- Tell us about the first meetings of "Let's transmit information and not the virus": where did they take place and why were these places chosen?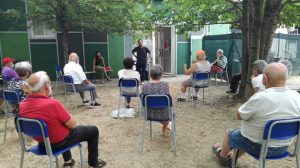 - The first meeting took place in piazza Cavallero in Rivoli, a "spontaneous" meeting place for many elderly people; the second in Grugliasco in the San Giacomo meeting center. It is a meeting and listening center, mainly frequented by elderly people, but not necessarily alone. It is an important meeting place for the territory, capable of guaranteeing sociality and solidarity, as also witnessed by some participants in the initiative on Monday. I speak of solidarity, because even during the lockdown this meeting center has lent itself to helping people most in difficulty, such as those unable to shop. This is how this reality has been kept alive, making itself remembered by the community and strengthening the social fabric at a critical moment. Indeed, it is something quite unique. On the other hand, the territories of Rivoli, Grugliasco and Collegno are very different from that of the city of Turin: they are less inhabited and more isolated areas. The problem here is loneliness.
In Turin there was an emergency regarding the homeless. There are not many homeless people in these territories, but there are still situations of those who have nothing besides a house. This meant that the Coronavirus and the lockdown have been even quieter and just as marginal.
- Therefore, the aim of these meetings, in addition to informing users, was also to present themselves with a spirit of solidarity, talk to us and discover their experiences with respect to the lockdown and the virus?
- Exactly. The initiative was structured in three different moments: a first of a health nature, which still continues to arouse interest, despite the media "bombardment" (as the people we met call it) a few months ago. However, there continues to be a strong need to understand and know how to organize oneself in terms of prevention; the other two moments were mainly thought by myself and by the psychologist Francesca Simi, but always reworked as a team, in order to create an opportunity to tell and tell about oneself and even rethink oneself in the light of lockdown, understood as a watershed moment capable of changing social realities. We have proposed a group activity in which with cards (one red and one green) we ask people to vote on the definitions of the lockdown: the answers are very varied. Finally we developed a questionnaire, to be precise a semi-structured interview: a sort of canvas through which to try to intercept descriptions of places and territories, of what works or of the desired changes, of what services, activities or networks (including informal ones) that are considered fundamental by people for the quality of their life.
- Compared to users, did it seem to you that they had questions or concerns about the virus and the contagion, perhaps also due to information received incorrectly?
- Yes, it may happen that even as a result of "hyper-exposure" at the level of information by users of a certain age, not always ready to grasp the key words of information, there may still be a curiosity, a need for further clarification. There is still a desire to know and understand what the risks are and how they can be effectively prevented. This need persists even in this phase in which, instead of the risk of contagion, nowadays very little is said.
- Are you satisfied with this first meeting? Are there any others and which users do you plan to reach?
- The meeting certainly went well. There was an active and quality collective participation: people were happy with this involvement. I felt their enthusiasm for the opportunity to talk and tell each other.
We held another meeting on July 30 and one is scheduled for August 3 in Collegno. The users we want to meet are those who can be reached thanks to a network of services, knowledge and volunteers who move around the territories where we will go and who have already taken steps to let people know about this activity: flyers have been printed and we have prepared sanitation kits to be distributed to the participants as a support to the daily attention in the prevention of the virus.
The users that I imagine we will meet are those representative of these places: people over 60, often in conditions of loneliness, but not necessarily of abandonment. What I saw in the previous meeting is that many people rely on a friendly network of support and solidarity: a very interesting fact despite how sociality was the first to be banned during the emergency and how it was considered a exclusive need of the youngest. On the other hand, the very elderly, who are among the people most at risk, have suffered from finding themselves deprived of their network of friends, a secure network to the extent that people take care of themselves to take care of others.
I realized that even the present moment is made up of very dense emotions. Many ladies have described to me the immediate joy of being able to meet with friends. Now instead what happens is a return to melancholy for those who had suspended other types of dramas or sufferings, because they found themselves in this emergency, because they found themselves living in conditions of solitude.