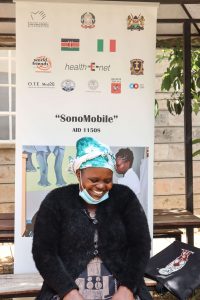 Esther Wanjiru is the mother of three children. He is 33 years old and lives in Kitale, in the heart of Trans Nzoia County, nearly 400 kilometers northwest of Nairobi. During his last trip to the capital he visited the Babadogo Health Center, one of the partner structures of I'mMobile. Esther has already faced serious problems during her previous pregnancies and was urgently looking for an affordable and quality antenatal visit. Here she was subjected to a completely free obstetric ultrasound offered by SonoMobile.
The SonoMobile nurse has begun to collect all the information necessary to reconstruct the woman's medical history. Esther revealed that she had a miscarriage during her first pregnancy. During the second she was advised to see a gynecologist who found that Esther was suffering from cervical incompetence. Cervical incompetence occurs when weakened cervical tissues cause or contribute to premature birth or the loss of an otherwise healthy pregnancy. On that occasion she was advised to undergo a McDonald's cerclage: the procedure consists of applying sutures to tighten the cervix. This allowed her to carry the pregnancy to term. The same procedure was done with her second and third pregnancies.
The ultrasound performed by the SonoMobile nurse revealed that Esther's cervix was still incompetent. This means that she would lose the baby. The ultrasound allowed Esther to undergo another McDonald's cerclage in time. Thanks to SonoMobile Esther's fourth pregnancy will be safely completed.