World Disability Day: Fighting Stigma in the Time of the Pandemic
The social inclusion of people with disabilities is an essential condition for guaranteeing the respect for fundamental rights and Sustainable Development. The crisis triggered by the Covid-19 pandemic has aggravated inequalities and therefore at this moment we must take action to promote inclusion. Even today, people with disabilities are one of the most marginalized groups in society globally.
Even in condition "Normal", people with disabilities have greater difficulties in accessing care, education and the community. In Kenya, disability is still deeply stigmatized today and families of people with disabilities find themselves on the fringes of their communities.
Disability and social inclusion: the mission of Melotto and Gifuni
In celebrating the International Day of the Rights of Persons with Disabilities, we want to mention the recent mission of Dr. Melotto and Dr. Gifuni.
Antonio Melotto and Lino Gifuni are two orthopedic surgeons who have dedicated a large part of their life to the treatment and improvement of the mobility of people with disabilities, especially children. Twice a year they visit the Ruaraka Uhai Neema Hospital in Kenya to carry out orthopedic missions in the context of Community Based Rehabilitation Program, of which Dr. Melotto is responsible. From the moment they arrive in Nairobi they immediately get to work, studying new cases and planning corrective surgery.
One of the cases that Dr. Melotto treated during this mission was that of the little girl Natasha. The little girl suffered fractures in both legs and was rushed to hospital. Despite the state of shock, Natasha remained calm, sometimes curious. During the check-up visit, she was not intimidated even when the doctors removed the cast to see if she could walk. For being an 8 year old girl she faced this challenge with great courage. Natasha still has a long rehabilitation path ahead of her, but it is clear that thanks to her determination and the support of Dr. Melotto and the hospital's medical staff she will soon be walking again.
Another case has touched a two-day-old baby girl. The little one has developed a congenital disability in the legs for which immediate corrective action was required. Dr. Melotto immediately applied a cast to allow her to regain motor functions during growth. This is a distinctive approach of orthopedic missions which focus on early interventions to increase the chances of resuming mobility in the development phase. It is no coincidence that during his missions, Dr. Melotto focuses mainly on children in developmental age.
A last case involved another 8 year old girl that has tragically lost his left arm in a car accident in 2014. Although the arm was amputated, the bone continued to grow. The work of Dr. Melotto together with Dr. Lino Gifuni allowed the removal of excess bone: a successful operation that allowed the child to be out of the operating room in less than 3 hours.
Train doctors to foster the inclusion of people with disabilities
Much of Dr. Melotto's work concerns corrective surgery, in particular aimed at cases of clubfoot. During the month he spent in Kenya, he conducted a Continuing Medical Education session for the medical staff at RU Neema Hospital. On this occasion he was able to give practical indications on how to correct clubfoot in children, while underlining its complexity. Thanks to the didactic material shared by Dr. Melotto, the participants received a training of great value, which will surely prove useful when they encounter cases of clubfoot.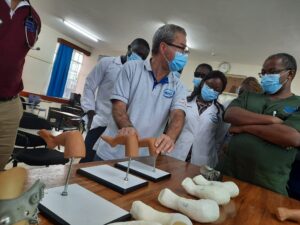 More than a billion people around the world live with a disability. Over 93 million are children. The statistics remain worrying, but it is precisely for this reason that there is a need for people like Dr. Melotto and Dr. Gifuni who dedicate their lives to treating people with disabilities and promoting their social inclusion; doctors able to go a step further (physically and metaphorically) to offer adequate care to their patients. On today's World Disability Day we want to celebrate them and all people with disabilities they deserve a future of attention and inclusion.